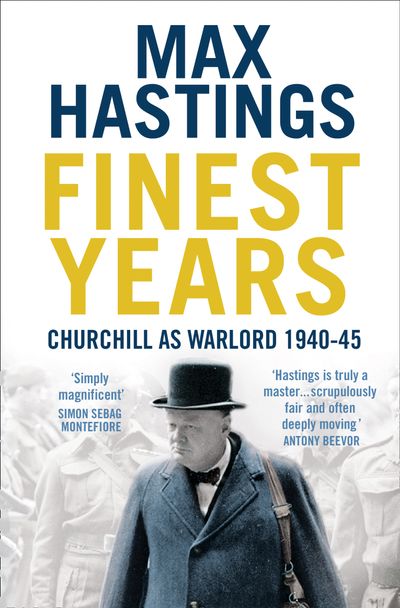 Finest Years: Churchill as Warlord 1940–45
By Max Hastings
'I would choose this account over and above the rest. It is a fabulous book: full of perceptive insight that conveys all the tragedy, triumph, humour and intense drama of Churchill's time as wartime leader; and it is incredibly moving as a result' James Holland, Literary Review
In this vivid biography, #1 bestselling historian Max Hastings tells the story of how Churchill led a nation through its darkest hour.
A moving, dramatic narrative of crisis and fortitude, Hastings offers one of the finest biographies of one of Britain's finest men. 
When Churchill took power as Prime Minister in 1940, it was with the unprecedented support of the nation. People rallied behind their new commander in extraordinary fashion, but thereafter, as Hastings argues, there came a deep divide.
Churchill was a hero, a dogged worker dedicated to steering the country through the war. He expected more from the British people than they were perhaps able to deliver.
Taking us on an intimate, stirring journey through the war years, Hastings tells a story of triumphs and tragedies. In Churchill, who was to become a paragon of leadership in tough times, he finds both folly and nobility. In the British nation as it faced its greatest challenge, he takes us through moments of both weakness and tremendous strength.
'One of the best books ever written about Churchill … He has drawn on copious original sources and consulted experts familiar with them, enabling him to cast fresh light on familiar episodes … A magnificent performance'
Sunday Times
'The book's portrait of Churchill is scrupulously fair and often deeply moving … In fact Hastings excels with all his character portraits, especially with Roosevelt and Stalin. Hastings is truly a master of strategy and high command'
Antony Beevor, Mail on Sunday
'One of the best books ever written about Churchill … Hastings's efficient, soldierly prose marches along at a brisk pace and carries the reader with it. He has drawn on copious original sources and consulted experts familiar with them, enabling him to cast fresh light on familiar episodes … a magnificent performance.' Sunday Times -
'The book's portrait of Churchill is scrupulously fair and often deeply moving … in fact Hastings excels with all his character portraits, especially with Roosevelt and Stalin. Hastings is truly a master of strategy and high command.' Antony Beevor, Mail on Sunday -