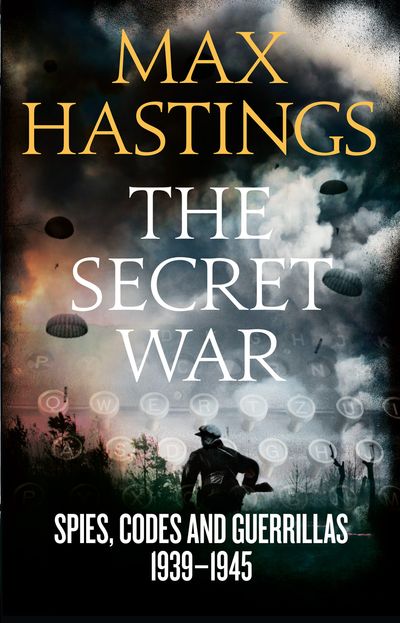 The Secret War: Spies, Codes and Guerrillas 1939–1945
By Max Hastings
'As gripping as any spy thriller … Hastings's achievement is especially impressive, for he has produced the best single volume yet written on the subject' Sunday Times
'Authoritative, exciting and notably well written' Daily Telegraph
'A serious work of rigourous and comprehensive history … royally entertaining and readable' Mail on Sunday
Spies, codes and guerrillas played critical roles in the Second World War, exploited by every nation in the struggle to gain secret knowledge of its foes, and to sow havoc behind the fronts. In 'The Secret War', Max Hastings presents a worldwide cast of characters and some extraordinary sagas of intelligence and Resistance, to create a new perspective on the greatest conflict in history.
Here are not only Alan Turing and the codebreaking geniuses of Bletchley Park, but also their German counterparts, who achieved their own triumphs against the Allies. Hastings plots the fabulous espionage networks created by the Soviet Union in Germany and Japan, Britain and America, and explores the puzzle of why Stalin so often spurned his agents, who reported from the heart of the Axis war machine.
The role of SOE and American's OSS as sponsors of guerrilla war are examined, and the book tells the almost unknown story of Ronald Seth, an SOE agent who was 'turned' by the Germans, walked the streets of Paris in a Luftwaffe uniform, and baffled MI5, MI6 and the Abwehr as to his true loyalty. Also described is the brilliantly ruthless Russian deception operation which helped to secure the Red Army's victory at Stalingrad, a ruse that cost 70,000 lives.
'The Secret War' links tales of high courage ashore, at sea and in the air to the work of the brilliant 'boffins' at home, battling the enemy's technology. Most of the strivings, adventures and sacrifices of spies, Resistance, Special Forces and even of the codebreakers were wasted, Hastings says, but a fraction was so priceless that no nation grudged lives and treasure spent in the pursuit of jewels of knowledge. The book tells stories of high policy and human drama, mingled in the fashion that has made international bestsellers of Max Hastings' previous histories, this time illuminating the fantastic machinations of secret war.
"'As gripping as any spy thriller. Hastings understands, better than any previous historian, that this is as much a story about human nature as it is about the mechanics of code-breaking or spycraft … he has the novelist's eye for the telling detail … this book works because Hastings is simply a very fine writer who is not afraid of making judgements … Hastings's achievement is especially impressive, for he has produced the best single volume yet written on the subject" - Lawrence Rees, Sunday Times
"'A total thriller with a full cast of killers, swashbucklers and beautiful adventuresses. The best history of war intelligence yet" - Simon Sebag Montefiore
"'This is his war and he writes with an easy assurance, scatter-gunning opinions … Hastings is on form. He has set out to provide thought and discussion and, with his familiar robustness, shotgun at side, he has succeeded" - The Times
"'Authoritative, exciting and notably well written" - Daily Telegraph
"'A serious work of rigorous and comprehensive history … royally entertaining and readable" - Mail on Sunday
"'Vintage Hastings: a vivid cast of characters, social observation and opinions forcefully expressed … Given the national fixation with spies and special forces, Hastings's book is a very necessary corrective" - Evening Standard
"'Lively and entertaining … a rich gallery of rogues, eccentrics and brainstorming professors which … Hastings can manipulate with wonderful deftness" - Observer
"'A compendious, crisply argued and witty assessment" - Financial Times
"'[Hastings] writes with infectious relish … a magnificent parade of crooks, alcoholics and fantasists … [he] has drawn fascinating fresh material … A book that pulses along, yet is filled with acute insight into human ingenuity, frailty, and the ironies of evil" - Spectator
"'Magisterial … an author at the top of his game" - Country Life
"'Hastings deploys a formidable arsenal to tell his human stories, plus a refreshing degree of scepticism" - Daily Telegraph