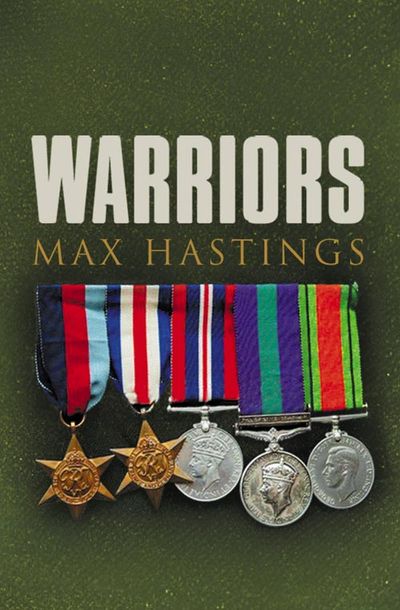 Warriors: Exceptional Tales from the Battlefield
By Max Hastings
An exhilarating and uplifting account of the lives of sixteen 'warriors' from the last three centuries, hand-picked for their bravery or extraordinary military experience by the eminent military historian, author and ex-editor of the Daily Telegraph, Sir Max Hastings.
Over the course of forty years writing about war, Max Hastings has grown fascinated by outstanding deeds of derring-do on the battlefield (land, sea or air) – and by their practitioners. He takes as his examples sixteen people from different nationalities in modern history – including Napoleon's 'blessed fool' Baron Marcellin de Marbot (the model for Conan Doyle's Brigadier Gerard); Sir Harry Smith, whose Spanish wife Juana became his military companion on many a campaign in the early 19th century; Lieutenant John Chard, an unassuming engineer who became the hero of Rorke's Drift in the Zulu wars; Captain Karl von Muller of the light cruiser Emden whose predations in the South China Sea on behalf of the German Imperial Navy in World War I earned him the title of 'the gentleman of war'; the Australian-born man of letters Frederic Manning whose account of trench warfare, Her Privates We, is unrivalled; Squadron Leader Guy Gibson, the 'dam buster' whose heroism in the skies of World War II earned him the nation's admiration but few friends and various other assorted combatants.
Every army, in order to prevail on the battlefield, needs a certain number of people capable of courage beyond the norm. In this book Max Hastings investigates what this norm might be – and how it has changed over the centuries. While celebrating feats of outstanding valour, he also throws a beady eye over the awarding of medals for gallantry – and why it is that so often the most successful warriors rarely make the grade as leaders of men.